Economics Student Ambassadors
| | |
| --- | --- |
| | |
Jessica Barca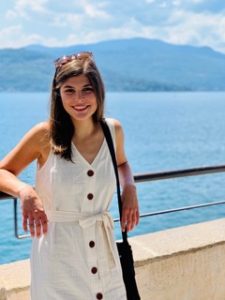 Jessica Barba
A native of Roseville, California, Jessica Barba has been on the Chancellor's Honor Roll every semester of her career and is a double-major in economics and history. She founded the Economics Club, which enhances students' feeling of community, and gives them chances to network at club events.  
Why did you choose to major in economics and history at UM?
I knew that history was going to be my major because I love traveling and had some amazing high school history teachers who made me fall in love with the subject. However, after my freshman year, I realized that I wanted to add economics as a major because I  plan to go into business down the road. Before I combined majors, I hadn't realized how much the economy has driven every country's history. That's made me become intrigued with foreign economic policy, and I hope to pursue a career in that down the road. Making the decision to be a double major took a lot of thought because it requires extensive time management and planning. However, all my professors in both departments have been super helpful and have made the experience absolutely worthwhile.
Has UM provided any leadership opportunities?
I am the founder and president of the Economics club. I want to expand the networks for conomics majors, providing help with finding internships and jobs out of college. They can have a place to go for help and sense of belonging. In addition, I am a part of the Pi Beta Phi sorority where I am involved in Champions Are Reader (CAR for short) program that provides an after-school reading program with local elementary schools.
What are your career aspirations?
After I graduate next spring, I'm planning on working in the Nashville area, and I'll eventually, go to grad school for a master's degree. My dream would be to work with foreign economic policy! However, that is a long road to get to that level so working for a big company or bank to ensure my success and one day have a family I can support is my goal right now.
What is your go-to meal in Oxford?
Hotty Toddy Balls from Volta! I mean who doesn't love those!
What are you binge watching?
Friends, New Girl, and Sweet Magnolias
Natalie Comer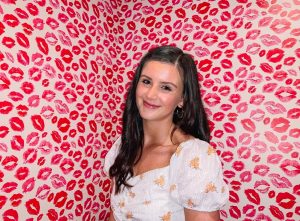 Natalie Comer
An economics major and philosophy minor, Natalie loves to get outdoors with friends and hike the beautiful Whirlpool Trails, a quick walk from central campus, with her friends. She is interested in design and says she "nerds out" over Architectural Digest: "My favorite day of the month is definitely when I receive my AD magazine in the mail!" A Provost Scholar, she is also on the Chancellor's Honor Roll. She appreciates the sense of community at UM. "Students make tight friendships and help each other. That's one of the things I love about the school."
Why did you decide to study your major?
I decided to study economics during my senior year of high school. I really enjoyed my economics class, and I developed an amazing relationship with my teacher. I think the way he taught his class made the information easy to understand, as well as incredibly interesting. I chose a minor in philosophy because I love debating the "bigger questions" in life, and gaining insight on others' opinions and thoughts that differ from my own allows me to reflect on my beliefs and how I view the world.
Career goals?
My career goals span business, real property, and contract law, along with real estate investment opportunities. My short-term goals are to get an internship having to do with any aspect of law or project management, graduate from The University of Mississippi, and attend a Top 50 law school.
Why should someone decide to study economics at the University of Mississippi?
I think the greatest thing about being an economics major here is that there aren't a lot of us. Most people decide to major in business with a concentration in economic, not the econ major, so the relationships I have with not only the students but also the professors are really genuine. I get a lot of support from them.
Have you had an experience at UM that made you feel empowered or gave you a leadershipopportunity?
I am part of Greek life here, and one of the most rewarding experiences for me was being a recruitment counselor. Doing that gave me a brand-new perspective on what it means to be part of this community and what it means to be a Panhellenic Woman. I had to be a leader, friend, mentor, and tech wizard all at once, so my leadership skills and ability to problem solve were definitely put to the test.
Any particular support or encouragement you have received from a mentor?
Pirie Maher is not a professor but a student who graduated from UM in spring 2020. Pirie was a CLA ambassador last year. She is a driven, thoughtful, and inspiring woman, whom I am so proud to consider my mentor and friend. We both focused our studies on economics and philosophy, so I have been introduced to several professors and department heads thanks to Pirie. The advice and encouragement I received from her have been invaluable. Currently, Pirie is studying law at Notre Dame Law School, but she still makes time to talk with me and advise me on academic and personal matters in addition to helping me prepare for the LSAT and get my law school applications together.
What is an especially memorable trip, research, internship, or other school-related activityyou've done?
I have been a part of is Leap Frog, an organization that provides tutoring and mentorship to over 120 first through third graders. I would go to St. Peter's Episcopal Church twice a week to teach fundamental reading skills to the sweetest second grader, as well as assist with any other homework needs that she required. The feeling of pride and accomplishment when your student is able to complete a lesson without hesitation or when he or she is able to read an entire book out loud to you without asking for help is unbelievable. The majority of tutors are students at The University of Mississippi which shows how dedicated my peers are to bettering not only our campus, but also the community surrounding it.
What are you binge watching?
Right now, I'm binge watching The Queen's Gambit on Netflix!
What is your go-to meal in Oxford?
My go-to meal in Oxford is the Chopped Salad and Bianca Pizza from Saint Leo's.