Economics Student Ambassadors
Derek Mckenzie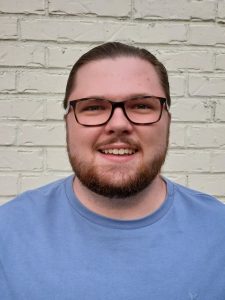 An honors student, Derek is pursuing a BA in Chinese and the BS in economics. His minors are entrepreneurship and mathematics.  A member of the prestigious Chinese Language Flagship program, Derek plans to work as an economic consultant for an international corporation in a Chinese speaking country.
Why did you choose to attend UM?
Years before attending college was even a thought, I would go to all of the college tours and visit days that my older sister attended. By seventh grade I got a good taste of most of the schools in Mississippi and several other SEC schools, but Ole Miss stood out. It is not only one of the prettiest colleges in the south, but it was also one of the most welcoming. After deciding to stay in state for scholarships, it was one of the easiest choices I have ever made.
When and why did you choose your major(s)/minors?
In tenth grade I had my first economics class, and it was the first class I had any real interest in. All throughout grade school I had excelled at math and always enjoyed problem solving, and when I discovered that the one class I was interested in, economics, could include both of those at the same time, I was hooked. My interest in Chinese language, however, was discovered almost by accident. I knew I wanted to study economics in college, yet I also knew that if I only studied economics I would get tired of it before I made it to the end of my four or five years. My thought was this; maybe I could study a language and go abroad, what country has a big economy, China has a massive economy, I should study Chinese.
What are your career goals?
My main career goal is to work as an economic consultant for an international consulting firm or an international corporation. It would be incredible to be able to work for a big name firm such as Mckinsey and Company at one of their many offices in China, and once I have established a name for myself within the company, return to work at one of their main offices in the United States.
Have you had an experience that made you feel empowered at UM?
One empowering experience is the process of steering and directing my degrees and minors in a way that points me towards my future goals. I have never before in school experienced the academic freedom that I have at Ole Miss, but as the saying goes, with great power comes great responsibility. Luckily, Ole Miss has excellent advisors and professors to help keep me headed in the right direction.
Is there a professor who has been particularly helpful to you?
In the economics department, all my professors have been very helpful. One stands out: Dr. Mau. My fall semester of sophomore year has been my hardest semester yet, and I had very little motivation to do any of my work that semester. I am sure many students felt that way while attending Zoom university. I was considering switching from a B.S. in economics to a B.A. to save time and stress, but Dr. Mau was very supportive and encouraging to keep me on the path I wanted to be on.
What do you like to do outside of school (hobbies, interests)?
Cooking. I cook at least four times a week for myself and my three roommates. Cooking is not only a way to express myself creatively, but it is also an incredible way for me to relieve stress when my workload for class can feel overwhelming. If my career goals do not go to plan after graduation, the backup plan is a ticket to the Culinary Institute of America.
What is your favorite place to eat in Oxford?
Being quite the foodie that I am, where is my favorite place to eat in Oxford is not a very easy question to answer. On a Friday night when I really need some stress relief from a long week, I love going to Southern Coop for wings and western ranch fries. On taco Tuesday the best place to go is the Taco Shop, but if you really just want a big burrito then El Agave is the best choice. For the pizza lovers, my favorite has to be Fergndans, and for the pasta people, the best in town by leaps and bounds is Tarasque Cucina.
Jonathan Dabel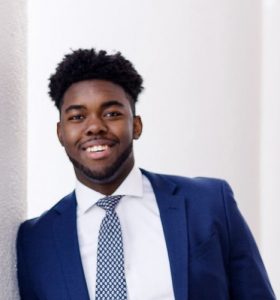 An economics major, Jonathan has his sights on finding solutions to help solve economic inequality, inequity in the US school system, and poverty. He was selected among 16 students nationwide by the Every Learner Everywhere program to conduct research on educational equity with the National Center for Research in Advanced Information and Digital Technologies. He also interned with the Congressional Hunger Center where he conducted research on hunger issues. On campus he was awarded Freshman Leader of the Year, Outstanding Achievement Award from the Men of Excellence, 2020 Outstanding Student Award by the Chamber of Commerce, Mississippi Scholar, and Class of 2020 Friendliest. His involvement includes the Economics Club, African Caribbean Student Association, UNICEF at Ole Miss, Student Body Senator, and UM Food Bank. He also serves as assistant to the Interim Vice Chancellor for Diversity and Community Engagement.
Why did you choose to attend UM?
I choose Ole Miss because gave me an opportunity like no other university to pursue my economics degree. Since I step foot on campus, I fell in love with it. The professors are very passionate about what they teach, which I believe is one of the greatest qualities to have as an instructor.
When and why did you choose your major(s)/minors?
My interest in majoring in economics started when I was a little kid living in Haiti. There I witnessed extreme poverty and lived through strong inequity and corruption. I was fortunate enough that my single mother could afford to put me in school and that I was a US citizen. living in an environment where poverty and corruption rule I sort of felt like it was my duty to find the responses to poverty, economic inequality, and inequity.
My interest in economics became stronger when I was sitting at graduation and realized that there were only a few of us African Americans graduating, some of them before reaching 12th grade had dropped out and others ended up getting arrested. This doesn't only happen in my high school, it happens all over the United States and I know this issue has a strong relationship with economics and equal opportunity to resources.
What are your career goals?
After college, I plan to work either in the nonprofit sector or the financial side of economics for a couple of years. Afterward, I plan to get my J.D and make research on how to solve economic inequality in the U.S.
Have you had an experience that made you feel empowered at UM?
Yes, the mentors! So many of the professors at the university care about their students. In the first week of school, I met two faculty members, and since they've been helping me succeed at the university. Them helping me makes me more passionate about attending Ole Miss.
Is there a professor who has been particularly helpful to you?
Professor Williams from the Honors College has been helping me succeed at the university since the first time we met.  I interned for the Congressional Hunger Center this past summer and without her help, it would have not beenpossible.
What do you want to change about the world?
Economic inequality. The fact that when I am hungry I can just go get food, when I know there is a kid somewhere not being able to do the same makes me uncomfortable.