Economics Student Ambassadors
Dan Sloan
Dan is pursuing a B.S. in Economics with a minor in Math. He is a member of the Sally McDonnell Barksdale Honors College and an Honors Ambassador. He serves as the parliamentarian of the Legistlative Council for the Associated Student Body. He is also an MPower Extended Orientation Leader where he works with incoming freshman to familiarize them with campus life. 
Why did you choose to attend UM?
A rather odd story to begin with: my older brother just graduated from State this past May, and I thought that I was going to end up following in his footsteps. On the drive down from Illinois to visit him, I decided to take a detour through Oxford to see the other major college town in Mississippi. Its beauty caught my eye, and I knew that I had to apply. The rest is history!
When and why did you choose your major(s)/minors?
I had the privilege to switch majors three times before I finished my freshman year. I came to Ole Miss as a Biomedical Engineering major, but then quickly switched to General Engineering with the intent of applying to Law School after graduation. As much as I liked the math and science, it still didn't feel right. I wanted to work more with people than numbers. As such, I switched to Banking and Finance at the end of my first semester. The following semester, I took my first business classes in January, and, again, it didn't feel quite right. After some more digging, I stumbled upon Economics. It was perfect! It took math and science and applied it to the real world. As I replaced my business classes with economics classes, it only furthered my interest. Economics is the only study that I have been genuinely curious to learn more about, rather than just learn to make grades. As a B.S. in Economics, it's possible to receive an automatic math minor between the major requirements and the additional course requirements, so I jumped at that.
What are your career goals?
I hope to work for an international philanthropic organization after graduating from law school. Two of my past three internships have been with such an organization, and they have been excellent experiences. On the side, I plan to become an author. I've always loved to write, and I'm already working on a few ideas, though they will probably take longer than I expect.
What has been your most memorable moment at UM?
The 20th Anniversary of the Ford Center was a really cool event, and I got to go with two of my best friends. The performances were all incredible, and Morgan Freeman's on-the-fly humor lit up the theater with laughter.
Is there a professor who has been particularly helpful to you?
That would have to be Dr. Scott. He was my professor for Principles of Microeconomics, and he is my favorite professor that I have ever taken. Just as Econ is real life, his class is real life, and he proves this by offering deals with the class content. They spun a competitive, and even cut-throat twist to class, which really kept us thinking and trying to read each other.
What do you like to do outside of school (hobbies, interests)?
As soon as classes are over, I try to dedicate a minimum of 90 minutes to exercise, the time split between running and the gym. After that, I meet up with my friends and we go with the flow, never having a plan. Most often, we shoot pool, watch movies, and complain about our worst classes. One of my favorite places to go is the Honors College. Apart from studying, it's a great place to run into people you know, and we often have powerpoint nights, where we all make a silly presentation on an intentionally vague topic.
What is your favorite place to eat in Oxford?
On campus, the McAlister Club wrap is my favorite, but in all of Oxford, Oxford Creamery, though it's more of a treat than a go-to meal.
Jonathan Dabel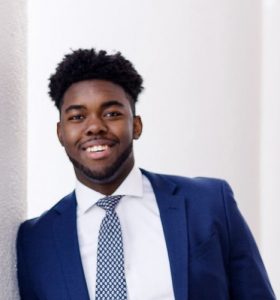 An economics major, Jonathan has his sights on finding solutions to help solve economic inequality, inequity in the US school system, and poverty. He was selected among 16 students nationwide by the Every Learner Everywhere program to conduct research on educational equity with the National Center for Research in Advanced Information and Digital Technologies. He also interned with the Congressional Hunger Center where he conducted research on hunger issues. On campus he was awarded Freshman Leader of the Year, Outstanding Achievement Award from the Men of Excellence, 2020 Outstanding Student Award by the Chamber of Commerce, Mississippi Scholar, and Class of 2020 Friendliest. His involvement includes the Economics Club, African Caribbean Student Association, UNICEF at Ole Miss, Student Body Senator, and UM Food Bank. He also serves as assistant to the Interim Vice Chancellor for Diversity and Community Engagement.
Why did you choose to attend UM?
I choose Ole Miss because gave me an opportunity like no other university to pursue my economics degree. Since I step foot on campus, I fell in love with it. The professors are very passionate about what they teach, which I believe is one of the greatest qualities to have as an instructor.
When and why did you choose your major(s)/minors?
My interest in majoring in economics started when I was a little kid living in Haiti. There I witnessed extreme poverty and lived through strong inequity and corruption. I was fortunate enough that my single mother could afford to put me in school and that I was a US citizen. living in an environment where poverty and corruption rule I sort of felt like it was my duty to find the responses to poverty, economic inequality, and inequity.
My interest in economics became stronger when I was sitting at graduation and realized that there were only a few of us African Americans graduating, some of them before reaching 12th grade had dropped out and others ended up getting arrested. This doesn't only happen in my high school, it happens all over the United States and I know this issue has a strong relationship with economics and equal opportunity to resources.
What are your career goals?
After college, I plan to work either in the nonprofit sector or the financial side of economics for a couple of years. Afterward, I plan to get my J.D and make research on how to solve economic inequality in the U.S.
Have you had an experience that made you feel empowered at UM?
Yes, the mentors! So many of the professors at the university care about their students. In the first week of school, I met two faculty members, and since they've been helping me succeed at the university. Them helping me makes me more passionate about attending Ole Miss.
Is there a professor who has been particularly helpful to you?
Professor Williams from the Honors College has been helping me succeed at the university since the first time we met.  I interned for the Congressional Hunger Center this past summer and without her help, it would have not been possible.
What do you want to change about the world?
Economic inequality. The fact that when I am hungry I can just go get food, when I know there is a kid somewhere not being able to do the same makes me uncomfortable.
Claire Reynolds
Claire is majoring in Economics with an emphasis in Law and Economics and minoring in French. She is an Arts and Culture Staff Writer for UM's award-winning student newspaper, The Daily Mississippian. She also serves as a peer reviewer for the Venture Undergraduate Research Journal.
Why did you choose to attend UM?
When I was applying to college, my brother was applying to law school and encouraged me to apply to UM after he committed to the school. When I toured campus, I loved how Ole Miss felt both tight-knit and full of opportunity. It was a place I could see myself getting involved while making a lot of meaningful connections and after being in Oxford for two years, I know it has been the perfect fit for me.
When and how did you choose your major(s)/minor(s)?
I originally came to Ole Miss planning to major in Chemical Engineering. However, after taking a variety of different classes, I found Economics, changed my major, and I haven't looked back. I've always been a pretty analytical person, and I loved how Economics essentially gives you tools to understand what is happening in the world, so it was pretty much perfect for me. I chose French as my minor because I took some in high school and always liked it, and I would love the opportunity to work abroad or at least with foreign companies.
What would you tell a high school student about your major? What is most important for them to know if they're interested in pursuing that field of study?
Don't let anyone dissuade you from picking Economics. I feel like a lot of people didn't like the Economics classes they took in high school and they let that paint a negative image of the entire subject. There are so many niche things you can focus on as you advance through the curriculum, such as Sports Economics or Natural Resource Economics, so everyone can find something they're interested in. It's not just supply and demand graphs.
Why is your department a special place?
All of my professors heavily encourage office hours and when you go it's not intimidating at all, they treat you with respect and I have always walked away with a better understanding of what they're teaching. You can tell they want you to do well and as long as you're willing to put in the effort, you'll walk away prepared for higher-level classes and your career.
What has been one of your most memorable or enjoyable moments at UM?
Any time in the Grove is a great time, but it was especially exciting when College GameDay came to cover the Ole Miss vs. A&M game! I remember walking through the Grove after the tent run and casually looking over and seeing Matt James and Tyler Cameron, two people I certainly never expected to see walk the same sidewalk I took to class every day. Also, campus was never quiet that night. There were so many people literally camping out in the Grove waiting for the game. It was just so exciting to see how much people supported our football team.
What do you hope to do after you graduate? What are your career goals/ plans for postgraduation?
After I graduate, I plan on attending law school. It's a big goal of mine to either work abroad or work for an international law firm. I'm still not completely sure what area of law I want to practice, but I've always been drawn to energy law, specifically focusing on renewable energy.
What is your go-to meal in Oxford?
Either the Popeye from Lost Pizza or anything on Zaap Thai kitchen's menu. You can't go wrong with either of those choices.
What are you binge watching or reading right now?
I've been going back and forth between Tokyo Vice, Gossip Girl, and rewatching Arrested Development. Book-wise, I just picked up Midnight in the Garden of Good and Evil by John Berendt and so far I enjoy it!
What are some dream travel destinations?
I'm a big fan of Formula 1 and because I am minoring in French I would love to visit a French-speaking country. So, combining both of those things, it's on my bucket list to watch the Monaco Grand Prix in person. I'm definitely not anywhere close to crossing that off soon, but maybe one day!